Dorothée's Language School
Dorothée's Language school is an online school for the world we live in. It is an accessible, immersive and stimulating online language course. Here you acquire German, French and English through a real-world topic-based methodology created expressly to develop the communication skills needed in the world today. I teach these languages for all levels of the Common European Framework (CEFR), A1 – C2. Improve your French, German or English from anywhere in the world with my face-to-face custom video classes and online modules—all you need is a fast internet connection.
[huge_it_slider id="2″]
Blended learning
Blended learning, the combination of face-to-face teaching and e-learning online modules optimizes your learning achievements.
My methodology ensures that you will acquire language skills relevant to the world we live in.
You will learn the foreign language without anxiety.
With me you will learn more than grammar. The context-based language learning develops critical thinking skills, and the ability to communicate on a more sophisticated level.
I create individualized learning plans adapted to each client's professional or private needs.
I focus on natural, sustainable and climate-based subjects that are socially responsible and help to create a more peaceful and prosperous world for all beings.
Service Offers
Personal language coaching for the job application process

Applying for a job can be challenging if you're not familiar with the job application process. If you're not completely sure about your ability to express yourself correctly, your skills and ideas won't be perfectly communicated. To accompany your job application process, I offer the following services in German, French and English:
Analyzing the job offer.
Training the job interview. Focus on oral expression and listening comprehension.
Suggested editing of cover letter and CV. Focus on written expression.
My coaching services will enable you to improve not only your English language skills but also your confidence!
Improving the communication skills of companies or institutions
International companies, NGOs and institutions, or smaller companies planning to expand their business activities abroad often use the top-level languages English, French or German as their common language, to negotiate or to communicate. Corporations can maximize inter-cultural efficiency by expanding and/or optimizing their employees' language ability. With the Learning Languages in Context (CLIL), internal and external communications can be improved, and potential costly misunderstandings can be avoided.
Our Blended Learning methodology aims at improving specific communicative competencies, e.g. writing reports and e-mails, telephoning, presenting, interacting with colleagues and clients personally or on the phone, conducting intercultural small talk.
The training is conceived for different EFL language levels. By conducting a primary language survey, the trainee`s performing levels are evaluated and the e-learning online modules and the classroom sessions are adapted accordingly.
Special offer! Face-to-face language tutoring for pupils and students

Do you have difficulties to pronounce German or French correctly? Do you need to write a proper English text? No matter what are your needs, I'll be there to help you to achieve your goals. You will benefit from my long-term experience as a language teacher at secondary and university level. I know the challenges of the different levels and I'll provide you with the appropriate course material. If you need help to prepare an exam or if you want tutoring throughout the year, just book a class with me.
Face-to-face language courses
are the most common way of language learning. In the virtual classroom, you will deepen your grammar and vocabulary knowledge, while improving comprehension and pronunciation, to take your English to the next level. I have carefully crafted my task-based methodology using an approach based on interactive, modern learner- and project-oriented principles. These put the learner at the heart of the learning process.
Book your first language course for only 1 €.

Prepare for internationally recognized certificates
My school collaborates with certified centers that offer various Cambridge and TOEFL exams (link to Cambridge, BULATS, TOEFL). If you are seeking to obtain one of these certificates, you can book special preparatory classes with me that will help you achieve success on the exam.
Book your first language course for only 1 €.
The CLIL approach: Learning Languages in Context
The Content and Language Integrated Learning approach brings benefit by teaching a language in a specific interesting context which in turn enhances the students motivation and dedication. The philosophy of CLIL is to "use language to learn, and learn to use language,"and is part of the educational program of the European Council .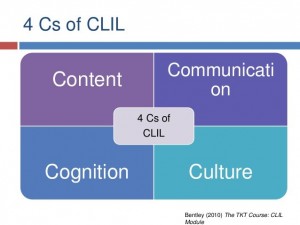 Learning Languages in Context increases your intellectual curiosity and trains your investigative skills. Whilst discovering different facets of a topic of interest, you also acquire language in its most natural and useful way. Language is not considered separate from geographical, socio-economical, socio-cultural, innovative or other contents. With CLIL, language acquisition comes from the learner's focus and is topic- and task-based, so learners are not bored any longer by the lexis and grammar approach.
We use authentic resources that are analyzed in terms of themes and devices to develop the skills you are likely to need within the content themes and the language that is embedded throughout the materials.
Having fun learning a foreign language
Foreign language anxiety is a common obstacle to successful foreign language learning. If you freeze up when called upon to speak or if you are afraid of making mistakes, then you can find yourself in a psychological situation that it makes it difficult to succeed in learning a foreign language. While getting to know each other, I will understand your specific needs. I can address any existing anxieties individually, as I do not use any standardized methods.
In my language classes I apply some strategies to reduce these anxieties and the stress you might feel. You may learn the foreign language from home which is a relaxed environment for you. I'm an outgoing person, so we'll have a lot of fun and I will not put any pressure on you. I will continuously build up confidence in your language performance and after a couple of sessions, you will be confident that you can make it.